We are a group of individuals devoted to helping people in recovery stay stopped.
Living Free Health & Fitness was founded to help people in recovery stay there! Our approach promotes positive change via regular exercise, healthy eating, & planning to succeed. Our principles are founded on evidence based, clinical practices and are designed to improve the skills, knowledge and abilities of our clients.
Rochelle "Shelley" Poerio
President & Founder
Shelley founded Living Free Health & Fitness (LFHF) in 2013 after researching – and observing – the benefits nutrition and exercise can have on helping people stay stopped. It has worked for many people, including Shelley herself (sober date: September 5, 2001). Shelley has been a clinician since 2009. Her previous business experience has been as a securities brokerage principal, and a principal in several small (<$10MM) businesses in the Washington, D.C. area. Shelley is the author of the book, "Rebalancing the Addictive Mind: Beating Addiction with Exercise and Nutrition."
Shelley is credentialed as a licensed alcohol and drug counselor-supervisor, master addiction counselor, and certified fitness trainer. Shelley has an M.A. in professional counseling from Liberty University and a B.A. in Communication from Stanford University.
Neil Conway
Executive Vice President
Neil has been involved with Living Free Health & Fitness since its inception. He edited the original business plan and website copy for Life on Point Therapy, which eventually evolved into LFHF. He was also the editor for Ms. Poerio's book, "Rebalancing the Addictive Mind: Beating Addiction with Exercise and Nutrition." Neil has an extensive background in public relations and advertising, having created or supervised campaigns for such major clients as Conde Nast Publications, Yamaha Corporation of America and the National Association of Music Merchants. He is currently a senior copywriter and planner for Salter Mitchell/Marketing For Change, a marketing communications agency in Alexandria, VA, and teaches physical diagnosis in the evenings at the George Washington University School of Medicine and Health Sciences. He sees his role with LFHF as a way to use his communications and healthcare expertise to help people live better lives.
Neil has an M.A. in film and video producing from American University, Washington, D.C.; an M.A. in journalism from the University of Maryland, College Park; and a B.A. in economics from Stanford University.
Dr. Anthony "Tony" Cox
Treasurer
A retired physicist, Tony has had an eclectic career. He started in Oxford using high-intensity synchrotron X-rays to investigate the structure of petroleum catalysts. In Hamburg, he expanded the technique to look at glass ceramics. At Stanford, he worked on the structure of proteins. A study of the machines that produce x-rays, and the challenge of stability, led to him leaving academia. For 20 years Tony has been a consultant, advising (and occasionally solving) complex control and data analysis problems for defense and manufacturing industries. He has a strong personal interest in adapting fitness and nutrition techniques to combat degenerative neurological disorders.
D.Phil, MA, BA, Hertford College, Oxford.
Catherine "Casey" Jones
Adviser
Casey got involved with LFHF in 2014 to learn more about the challenges people face when in recovery. She is an experienced entrepreneur, having been in 7 start-ups, ranging from semiconductor design automation, semiconductor intellectual property, speech recognition and most recently pharmaceuticals. After spending more time with LFHF, she now contributes to the content and program development we offer to help people develop more traditional and satisfying – and sober – lives.
MS/MBA, The Tepper School, Carnegie Mellon University BA/MA, Stanford University
Robert Saxen
Board of Directors
As a successful small business owner, Robert specializes in identifying market needs, fine-tuning concepts and delivering viable, successful solutions. Over 25 years, he leveraged his skills in sales, marketing and management to build (with his partner) one of the leading providers of water treatment products in Arizona. On a personal level, Robert was drawn to support Living Free Health & Fitness after becoming aware of its mission in 2014. Besides having been a high school classmate of Shelley (and co-board member, Mari Lynn Johnson), Robert struggled with addiction for 20 years, before finally stopping for good in 2009. "Perhaps the biggest challenge is 'staying stopped'. I'm pleased to be part of an organization that is focused on helping individuals develop the life skills and lifestyles necessary to living the rest of their lives happy and free of mind-altering substances and unhealthy behaviors."
Mari Lynn Johnson
Board of Directors
Mari Lynn is vice-president of her family-owned water treatment company – and demonstrates leadership and skills from the executive office to the repair floor. Her company is currently ranked #2 in U.S. sales. And she is the #3 sales representative in the country. But it wasn't always like this for her. Mari Lynn struggled (like high school track teammate and classmates Shelley, and Robert) with addiction for more than 20 years. She has been active in recovery since 2009. She has supported Living Free since 2014, since, as she likes to say, "I experienced what Shelley's book (Rebalancing the Addictive Mind) teaches – that exercise, clean eating and clean living really make the difference in wiping out cravings. Even at five years' sober, I still had cravings for alcohol. Practicing the principles in the book turned the tide for me!" Mari Lynn is an avid gardener and athlete, and is an ardent supporter of the power well-executed sober living environments make on "recovery for life".
THE TEAM
Myron DeVoto
Consultant
Myron has over 25 years of experience in the CPG (Consumer Package Goods) industry along with Real Estate Investing since 1999. Over the years Myron has built teams with a foundational focus using technology to help take on the repetitive tasks. This, in turn, has allowed his teams to flourish and drive real business results. Myron's involvement in Living Free Health & Fitness hits home as he has had personal family experiences with substance abuse. "It's a lifestyle, not something you do once to fix the problem", Myron says about staying stopped. "I personally have never had a drug addiction or have even used drugs for that matter, however, I've had issues with weight and my love of chocolate, so I can partially relate. I do understand how substance abuse can affect family and how you feel helpless in the moment." Myron's passion for keeping a positive mindset and driving forward through fear helps keep him motivated to help others see the light at the end of the tunnel.
Tina Dixon
Social Media Coordinator
Tina is an online marketing veteran with over 15 years experience in the digital landscape.  She brings advanced multi-channel digital marketing techniques to our marketing mix, helping us to enhance our Social Media visibility and our internet branding.
Shamar Brown
Fitness Program Coordinator
"Shay" has built a fitness career focused in education and guidance on proper food intake, cardio-respiratory exercise, supplementation, and resistance training. He has/trains at the largest of Las Vegas-based and national fitness clubs in including 24-Hour Fitness, EoS Fitness, and the Las Vegas Athletic Club. He is certified as an ISSA and AFAA trainer and works with clients ranging in age from adolescence to geriatric. Shay was a basketball player in his days at Sacramento State University and majored in criminal justice and applied sciences.
Karisa Pavan
Clinical Associate
Karisa graduated with her Master's degree in Criminal Justice from the University of Nevada, Las Vegas (UNLV). During her time in the graduate program, her focus was on victimization and sex crimes. Karisa currently works for a non-profit organization, where she is the program manager for the Nevada Center for Children and Youth. Karisa aspires to work with victims of crimes, individuals with behavioral and mental health needs, and simply continue to make change in the society we live in. Fitness and health have also become a large part of Karisa's life as she has recognized the role that both play in recovery from a myriad of mental health afflictions, in addition to promoting healthier happier lives.

Kathi Kulesza
Lifestyle and Fitness Coach
Kathi is a Professional Speaker, certified Life Coach, and Personal Trainer. She works with and speaks to men and women  about flipping the switch and creating a sustainable healthy lifestyle. Kathi was a marketing executive in a previous life. Then, seeing the light, she traded in her heels, suits, and business meetings for sneakers, spandex, and fitness classes. It's her passion to provide support to individuals who want to do what she did in rediscovering Body, Mind, and Heart, and choosing to implement and live a healthy lifestyle.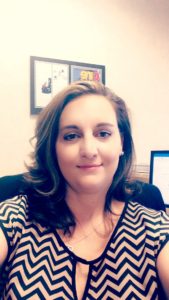 Beth Staples
Education and Fitness Programs Associate
Beth has a background in office management and volunteer work. She is currently involved in reviewing and packaging our courseware, and supporting on-site fitness programming.